Post by jmoose on May 20, 2023 16:53:09 GMT -6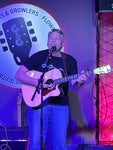 Truth is we're always mixing. Everything is mixing.
Picking & hanging mics... even something innocent like choosing one acoustic guitar over another? Grabbing a martin D18 over a 000 style? Swapping out a snare drum..? Picking one guitar amp over another? All mixing.
The biggest thing I get, often, with home tooled projects is usually a lack of overall vision and clear intent.
Pro cats tend to see/hear the end product in their heads & work towards that goal... sorta like an artist who's carving a sculpture. The final piece was always there in that chunk of wood or granite. They just had to carve the rest of it away.
The home tool crowd, at least what comes through my shop? Often feels more like the results of experimentation... where they were tossing things at the wall and hoping to see what actually sticks. And whatever sticks? That ends up being the album.
Often its sounds that don't have much of anything in common and don't naturally relate to each other. Maybe its overall "size" and EQ? Oddball dynamic relationships... questionable reverb choices... that sorta thing.
Sometimes its easy to tell that people just can't hear things very well...
Very long time ago, early in my career I sent an album to Lynn Fuston for mastering & that was one of his comments to me. That I couldn't hear things well. At the time, as a young greenhorn I kinda took it as a dig.
Bunch o' years later I realized what he actually meant. And his point was that the monitoring & acoustic environment was covering a whole lotta information that I simply wasn't hearing & reacting to. Or at least, upon reaction not doing myself (and the artist) many favors.
And he was dead nuts right. That album was mixed on a smackie 8 buss desk with who knows what monitors in an untreated room at the artists home studio... The typical smackie & ADAT rig of the time with zero outboard gear. Or at least none of the good stuff. Not that it stopped anyone!
Today the gear is better. Way better. For less then the cost of that junk you could get an Apollo or even a basic focusrite scarlett that sounds way better... something you could actually make a record with.
Yet the bad & questionable monitoring still persists. People working on tiny speakers or maybe headphones where stuff is flying past at 1100 feet per second and goes unnoticed. Well, mostly unnoticed.
Mix translation is still not just a thing... its everything. And so the time to start working on that is before we arm tracks & hit record. Intent.
There's either clear purpose or the sessions are going to turn into data collection. Well... I'm not really sure about this part or tone, I'll sort it out later at mix? Now your just burying yourself with options.