Post by svart on Jul 6, 2016 7:14:42 GMT -6
So after a big tracking session this weekend, I was faced with a few days off work.. And a bunch of projects to catch up on.
One of which was something I've wanted to do for a while, turn a couple old MXL603/991 mics into Royer mod SDC's.
I had most everything I needed, so it was more of a "see how little I need to buy" type of project.
I only bought a few things.. A pair of impedance matching transformers in the 12:1 range, a couple 5840 tubes, and a metal box. I already had everything else.
I'm doing something different with these mics. I'm putting the transformer and cathode resistor inside the mic so I can run differential through the cable to lessen the amount of noise.
I also didn't realize that I was out of 5 conductor mic cable. I used flexible MIDI cable instead. it's not very different from mic cable since it's shielded as well.
I also ran one heater wire, the other side is grounded. Seems to work OK, no problem with hum that I can tell.
The power supply box. Pretty much the same as the royer schematic, but I had to adjust the resistor values to get the right voltages. I didn't feel like doing a layout, so I just used some breadboard. Now I remember why I hate breadboards.
Attachment Deleted
My first prototype. I simply stripped one of the mic's original boards and used a nibbler tool to cut most of the board away. Since I put the transformer in the mic, I needed some more room.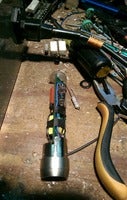 The finished prototype. The mylar coupling cap is the largest thing in the mic. I need to see if there is a smaller one I can order.
Attachment Deleted
The second mic. This one I cut out some copper clad to fit to make it more tidy inside. This pic also has the source for the transformer too. I got them off Ebay for 10$ each.
Cat tax.
All in all, I spent less than 50$ to turn a couple mics and some other spare parts into a pair of royermod SDC mics.
So far they seem quiet and sensitive. I need to do some testing and see how they sound on certain sources. I read that they can't be beat on toms and things like that. We'll see.