Post by thehightenor on Nov 9, 2022 4:36:44 GMT -6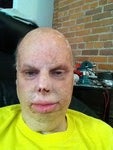 A venue I play at had one for 5 years used nightly for a heavy live venue schedule and now they have moved to a Midas 32.
I very much like the desk, the functionality is truly fantastic. I don't have any Behringer gear in my studio, I just find their products great for live use.
The price point is perfect - nothing to expensive to stress about when you're out and about gigging and yet sounds great live.
So, yes I'm a very happy Behringer customer.
I don't tend to over complicate these things in my mind :-)
The few I have seen that survive heavy use are installs, I like the functionality it's the build if you have to take it on the road every night. Nothing worse than " sorry we can't do the show the boards down" this coming from a guy who has mixed wedges and FOH from the side of the stage because the FPH console PSU's both died, not fun.
I only gig at the weekends so my X32 Compact is perfect and I have an X18 Air with me as well so I'm covered.
I bought the Behringer PM16's that run on the ethernet system and it means the drumming and keyboard player can adjust their mixes hands on.
Myself (vocals) the bassist and guitarist (the up front guys) are adjusting IEM mixes with iPads but I'm so impressed with the little PM16 I'm going to change over to using that - the Behringer prices make it all possible.
I'd bought Sennheiser radio systems though as that needs to be super reliable and Yamaha DZR 12's for the PA speakers.
What a weekend warrior can achieve live with this little compact PA rig and a few iPad controlled LED lights and a haze machine for some ambience is amazing.
People come up after a show and are always blown away with the sound.
At some point we're going to get a young blood to run FOH for us but all in all having moved the gear around for quite a few shows, considering the relatively small cost of it all I'm amazed at how super reliable it is as a system - it's predictable - plug it in and it's exactly there as it was in technical rehearsals.
I'm thankful to Behringer for making it possible for live shows at our level - but I won't be buying any Behringer gear for my studio set-up :-)