Post by Blackdawg on Jun 9, 2020 14:38:03 GMT -6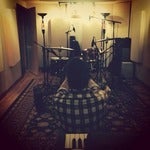 And I would expect no less for that kind of money! Seriously though, that's very cool. And I agree that there is peace of mind having a computer be invisible, so to speak. It's just there, doing it's job, and you don't even think about it. That's what I want. I get so frustrated firing up the studio only to have that fan start revving up. Takes the wind out of my sails. A Mac Pro would be some serious overkill for me. I think I'd end up just as well with a new iMac for half the price. For my needs, anyways. Now, if I can hold on for long enough, and hope that Apple comes through...
Would it be though?
I've had my mac pro since 2011 and it's a 2007/08 model and STILL works. Im running PT 2019 something and HDX with it and it STILL works.
So while its a big up front cost, you'll get 10 years or more out of it especially if you just keep upgrading it as you go/need. $7000/10 years is 700 bucks a year. That's really not that bad all things considered...
That said, I just built a brand new PC for Pyramix and it flys. I wasn't a fan of win10 for a long time but have been liking it more and more.
But I still want a new mac for Protools. I just like using PT on a Mac more. Considering I'd have to get an expansion chassis and such for a mini it adds up to half the cost of a Pro anyways. That and I don't think the fan is any quieter on the new mini. Probably just buck up and get one myself. Buy once, cry once.
Or wait for there to be a refurb market for them perhaps.